The official results of the 2022 Mind Sports Olympiad (MSO) Grand Prix are in as of 12 PM BST today: Maciej Brzeski is the 2022 MSO Grand Prix World Champion! 
Taking place between April 15th and May 29th, 2022, the first Mind Sports Olympiad Grand Prix brought together the strongest board game players from across the world with participants from 88 different countries.
Using an innovative cumulative formula across a series of 115 online tournaments and after six weeks of hotly contested online competitions ranging from Chess and Backgammon to Poker and Catan, returning 2021 Pentamind World Champion Maciej Bzreski dominated the field of play, finishing with 744 GP—more than double the GP points of his runner up. 
Maciej, a Polish chess master and Artificial Intelligence researcher, won 8 Gold medals during the Grand Prix ranging from Azul to Tumbleweed, via Chess (Arena) and Lines of Action (Swiss).
Japan's Yuki Shibata placed second with England's David Pearce placing third. James Heppell (England) and Alain Dekker (South Africa) placed fourth and fifth, respectively.  
Rafayel Ordyan (Armenia) won the Junior Grand Prix Championship, with Natasha Regan (England) taking the Women's championship. Rafayel's Grand Prix score of 141 matched our Senior winner's score from MSO veteran Dario de Toffoli, who managed to keep 10 points clear of compatriot Riccardo Gueci in the Senior leaderboard.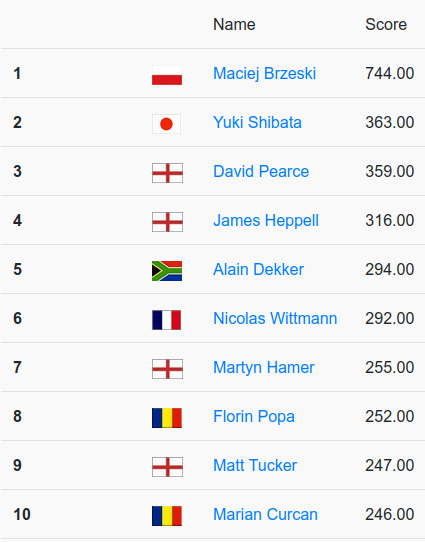 The Grand Prix saw seven categories hold their own leaderboards:
Maciej cleared up in the Abstract category winning 5 Golds to leave him well clear of second place Yuki Shibata. James Heppell held off David Pearce by a single point to take third.
Romania's Florin Popa came through late to take the Backgammon category top spot. Florin won 2 events, and overtook previous leaders Zoltan Kovacs and Chasse Rehwinkel who finished second and third respectively.
Maciej won the Chess category and showed great versatility across the many variants by picking up a total of 9 medals. Rafayel was second and Balázs Csonka in third, with the Hungarian winning Gold in all 3 events he entered.
Kanstantsin Nord took the Draughts category by a big margin having previously won 5 Golds and 2 Silvers in this discipline. Mantas Janavicius placed second with 4 medals and Marino Carpignano third with 4 medals.
The Imperfect Information category was by far the closest. Just 3 points separated the top three, with Maciej holding on to the category by 1 point from Matt Tucker, whilst Raphael Tse was a couple of points further back.
Nicolas Wittmann put in a highly impressive Grand Prix performance to take the Multiplayer crown. The Frenchman won Gold in Castles of Burgundy and Welcome To, and despite playing in only 8 events, finished an impressive 6th in the overall standings. He was challenged all the way in the Multiplayer category by Hong Kong's Tung Yat Cheng. David Jameson won a close three-way fight for third place.
Northern Ireland's Ben Collister was the only player to register 2 Poker Golds, which was enough to win him the category. Dario de Toffoli and Samuel Fishman finished tied for points behind Ben, with Dario taking second by virtue of winning the Omaha Heads Up tournament.
Congratulations to Maciej Bzreski and all of our winners!