Schedule
The MSO Grand Prix 2024 Premier schedule is now available.  Tournaments played on these days will count towards our Grand Prix Championship Meta-Event.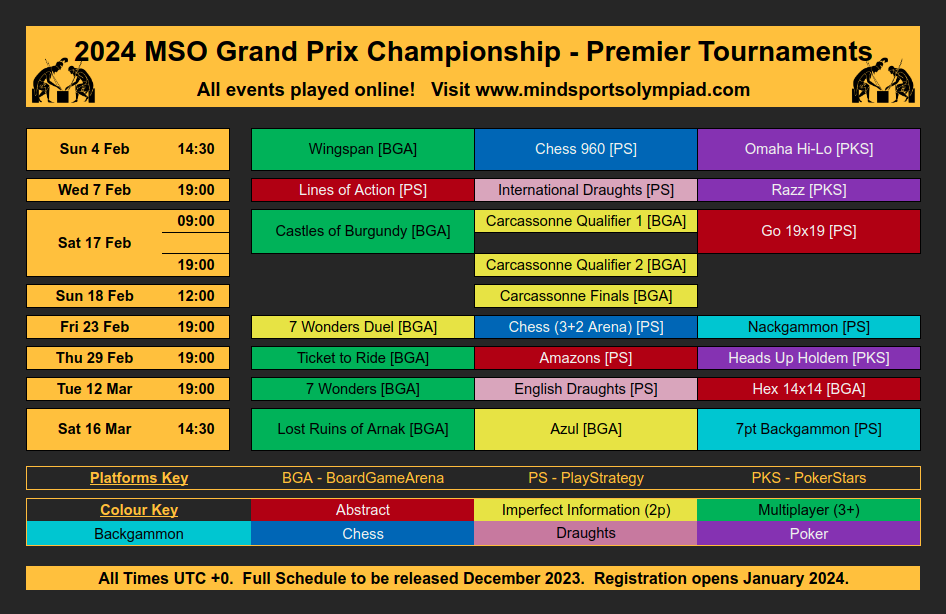 The full MSO Grand Prix schedule will contain more than 100 tournaments which will all count towards the 7 different category Meta-Events, and will be revealed in December.
There are a few areas worth highlighting in our Premier schedule:
Firstly, our Grand Prix Carcassonne event will again be providing a qualification spot for the 2024 Carcassonne World Championship, which will be held in Germany next October. This tournament will run to the same format as 2023's event with two chances to qualify for the finals, intended to be accessible for players of all timezones.
Whilst the timetable is focused around a European day, with the MSO's origins being in the UK, we do appreciate the dedication of players from all over the world, particularly our numerous players based in Asia. These players often play through their night, and so we've made one of our Premier days start earlier than normal to better cater for these players. There will be more non-Premier days also in this timeslot.
Finally, we are pleased to announce that in 2024 the Backgammon tournaments will be hosted on PlayStrategy. This will reduce the number of platforms needed to play Premier events down to just three! Development is ongoing to add Backgammon to PlayStrategy, but we will announce when it is available to try, and hold warm-up tournaments to give players a chance to familiarise themselves with the platform before the Grand Prix events.