Fresh from the excitement of returning to London for our first offline Olympiad in three years, our attention has now turned towards planning our 2023 events.  We are delighted to announce that the MSO Grand Prix and the Mind Sports Olympiad will both be back with strong competition across a wide range of disciplines in online and offline settings.  We can confirm our 2023 dates will be as follows:
2nd MSO Grand Prix – Friday 27th January to Sunday 12th March 2023 – Online
27th Mind Sports Olympiad – Sunday 20th August to Monday 28th August 2023 – London, UK
Read on for more details…
2nd MSO Grand Prix 2023
Our Grand Prix format returns for a second instalment of online competitions this Winter. We've brought the dates forward this year to create a larger gap between the offline and online events, and to fill some of those dark and cold evenings between Christmas and Spring. We hope this change will make the tournaments accessible to even more players.
An initial list of events we plan to include can be seen below, however this is far from final.  We will continue to review games as we work this into a schedule to be released later in the Autumn.  Furthermore, if there's a game not currently on the list that you'd like to be part of the Grand Prix you can volunteer to help us run that tournament.  Contact Mike or Statmatt with a Discord direct message, or email mikedixonmso@gmail.com and we will support you to make the tournament a successful addition to our schedule.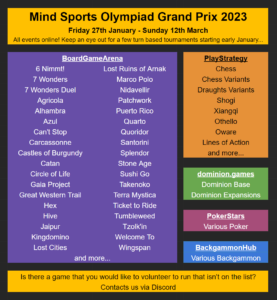 Finally, look out for details of a small number of turn-based qualifier tournaments starting in early January.  This is something new that we would like to try for 2023 and depending on it's success, might be something we try more extensively in the future.  Scheduling for the Grand Prix can be difficult with longer games which require more than one evening to complete a tournament, so by playing the initial rounds turn-based we can fit more of these games into our schedule.  These tournaments will conclude with a live final during the main Grand Prix schedule.
27th Mind Sports Olympiad 2023
The Mind Sports Olympiad will return to JW3, London in our usual late-August slot.  Details of the schedule will be shared in Spring 2023.