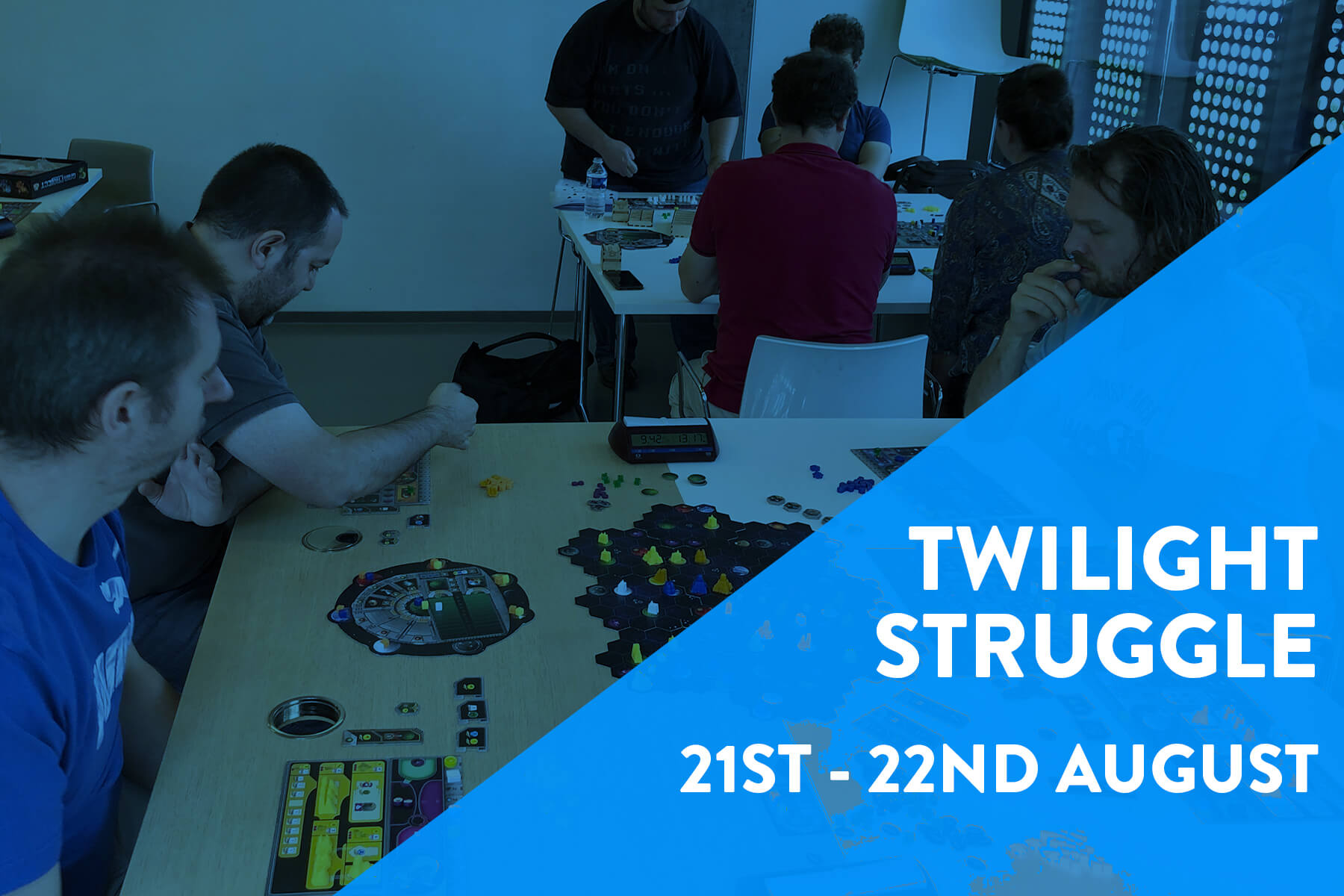 Twilight Struggle
"Now the trumpet summons us again, not as a call to bear arms, though arms we need; not as a call to battle, though embattled we are – but a call to bear the burden of a long twilight struggle…"
– John F. Kennedy
In 1945, unlikely allies toppled Hitler's war machine, while humanity's most devastating weapons forced the Japanese Empire to its knees in a storm of fire. Where once there stood many great powers, there then stood only two. The world had scant months to sigh its collective relief before a new conflict threatened. Unlike the titanic struggles of the preceding decades, this conflict would be waged not primarily by soldiers and tanks, but by spies and politicians, scientists and intellectuals, artists and traitors. Twilight Struggle is a two-player game simulating the forty-five year dance of intrigue, prestige, and occasional flares of warfare between the Soviet Union and the United States. The entire world is the stage on which these two titans fight to make the world safe for their own ideologies and ways of life. The game begins amidst the ruins of Europe as the two new "superpowers" scramble over the wreckage of the Second World War, and ends in 1989, when only the United States remained standing.
Twilight Struggle inherits its fundamental systems from the card-driven classics We the People and Hannibal: Rome vs. Carthage. It is a quick-playing, low-complexity game in that tradition. The game map is a world map of the period, whereon players move units and exert influence in attempts to gain allies and control for their superpower. As with GMT's other card-driven games, decision-making is a challenge; how to best use one's cards and units given consistently limited resources?
Twilight Struggle's Event cards add detail and flavor to the game. They cover a vast array of historical happenings, from the Arab-Israeli conflicts of 1948 and 1967, to Vietnam and the U.S. peace movement, to the Cuban Missile Crisis and other such incidents that brought the world to the brink of nuclear annihilation. Subsystems capture the prestige-laden Space Race as well as nuclear tensions, with the possibility of game-ending nuclear war.
Tournament Format
Players Per Table – 2
Rounds – 8 (4 preliminary rounds Saturday, top 16 progress to knockout on Sunday)
Platform – Twilight Struggle Playdek Application + Discord (discord.gg/mRhtB4M)
Please join the MSO Discord at least 15 minutes prior to the start of the tournament and await further direction.
– All games must be played using the Playdek version.
– All matches will be played with optional cards, no CCW and US + 2.
– All players will play 4 matches for sure on Saturday. If there is an odd number of players, one player will get a bye each round (normal Swiss rules apply, so nobody can get more than 1 bye and a player with a bye scores an automatic victory). Swiss pairings guarantee different opponents for everyone.
– Top 16 of Saturday will play at Playoffs on Sunday. 1st tie breaker: number of forfeited games. 2nd tie breaker: Buchholz.  Tiebreakers are (in order): (1) fewest forfeited games, (2) Buchholz, (3) Difference between sum of rounds not played due to victory minus rounds not played in games lost (ie faster wins, slower losses are better), (4) Random draw.
– Max. thinking time per player is 1h00m, breaking this limit means losing due to Thermonuclear War.
– All participants should be present in the MSO Discord during all playing hours (starting 15 minutes before the first and each other round), unless skipping a round or receiving a bye.
– Whoever is not reachable at the start of a round (at last 5 minutes before the scheduled starting time of a round!) will be handled as skipping a round. The organizing team will try to reach participants until that time.
– All games must be reported after the end of the game at : https://forms.gle/8RQaak2EsyLY4BLB7
– I will post results, rankings and schedules as soon as possible after finishing a round on excel sheet
– I will post the schedule of each round just a few minutes before the start of the round. During the complete tournament, matches should start only at the scheduled time, so I can solve "last moment" issues. A player having a bye is also asked to be in the chatroom at the start of a round in case there will be a last minute change.
Hourly Schedule
Saturday
Sunday