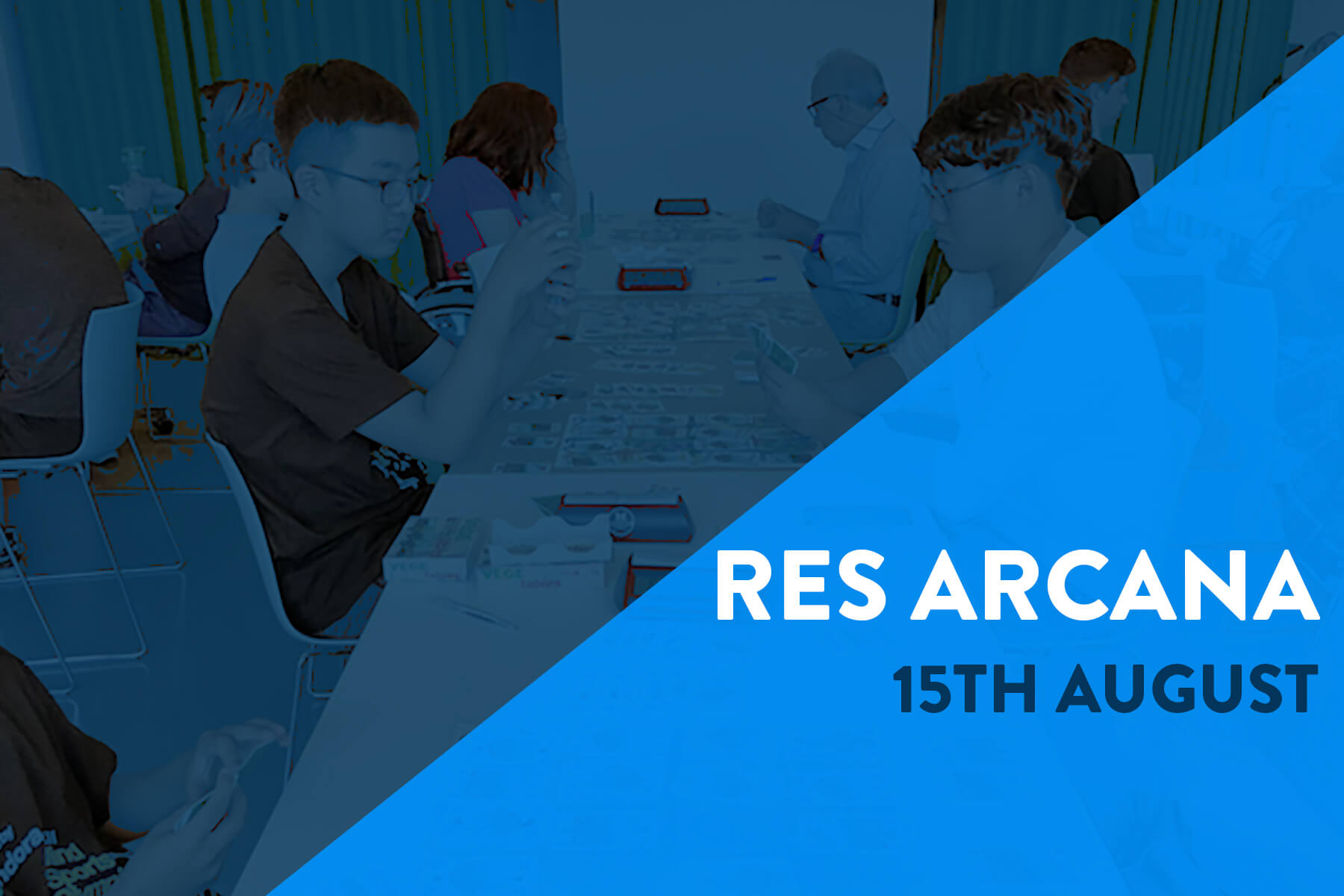 Res Arcana
In it, Life, Death, Elan, Calm, and Gold are the essences that fuel the art of magic. Choose your mage, gather essences, craft unique artifacts, and use them to summon dragons, conquer places of power, and achieve victory!
A game typically lasts 4-6 rounds. In each round, players do these steps:
Collect essences: performs any Collect abilities, and may take essences from components.
Do actions, 1 per turn, clockwise from the First Player: place an artifact, claim a monument or Place of Power, discard a card for 1 Gold or any 2 other essences, use a power on a straightened component, or pass: exchange magic items and draw 1 card. Play continues until all players have passed.
Pass procedure: If you are first to pass, take the First Player token, swap your magic item for a different magic item, draw 1 card.
Check victory points (10+ VPs). If no one has won: straighten all turned components, and begin the next round.
Tournament Format
Players Per Table – 2
Rounds – 7
Platform – BoardGameArena
Clock Settings – 15 mins per player
This tournament will be played using the BoardGameArena (BGA) tournament system. Signed up players will receive an email one day before the tournament inviting them to follow a link to register to the tournament on BGA. You will need to do this in order to secure your place in the draw and this cannot be done sooner than 1 day before the tournament (this helps to avoid players being in the draw who do not show up for the tournament). Players who do not have 100 ELO points in the game on BGA will not be able to join the tournament without the email invitation so please make sure you have registered here on the MSO website 48 hours before the tournament. We may not be able to get you into the tournament after the invitations have been issued.
When playing in the tournament on BGA please ensure that you join each of your matches promptly as any player who misses the start of a round will automatically be withdrawn from the tournament. When a new round is drawn a bar should appear at the top of the page on BGA inviting you to join your match (you may need to refresh to see it). Follow this to join your table and play your game. We are unable to add players back into the tournament who miss a round or accomodate late entries for this tournament.
Tournament Link on BGA – https://boardgamearena.com/tournament?id=93151