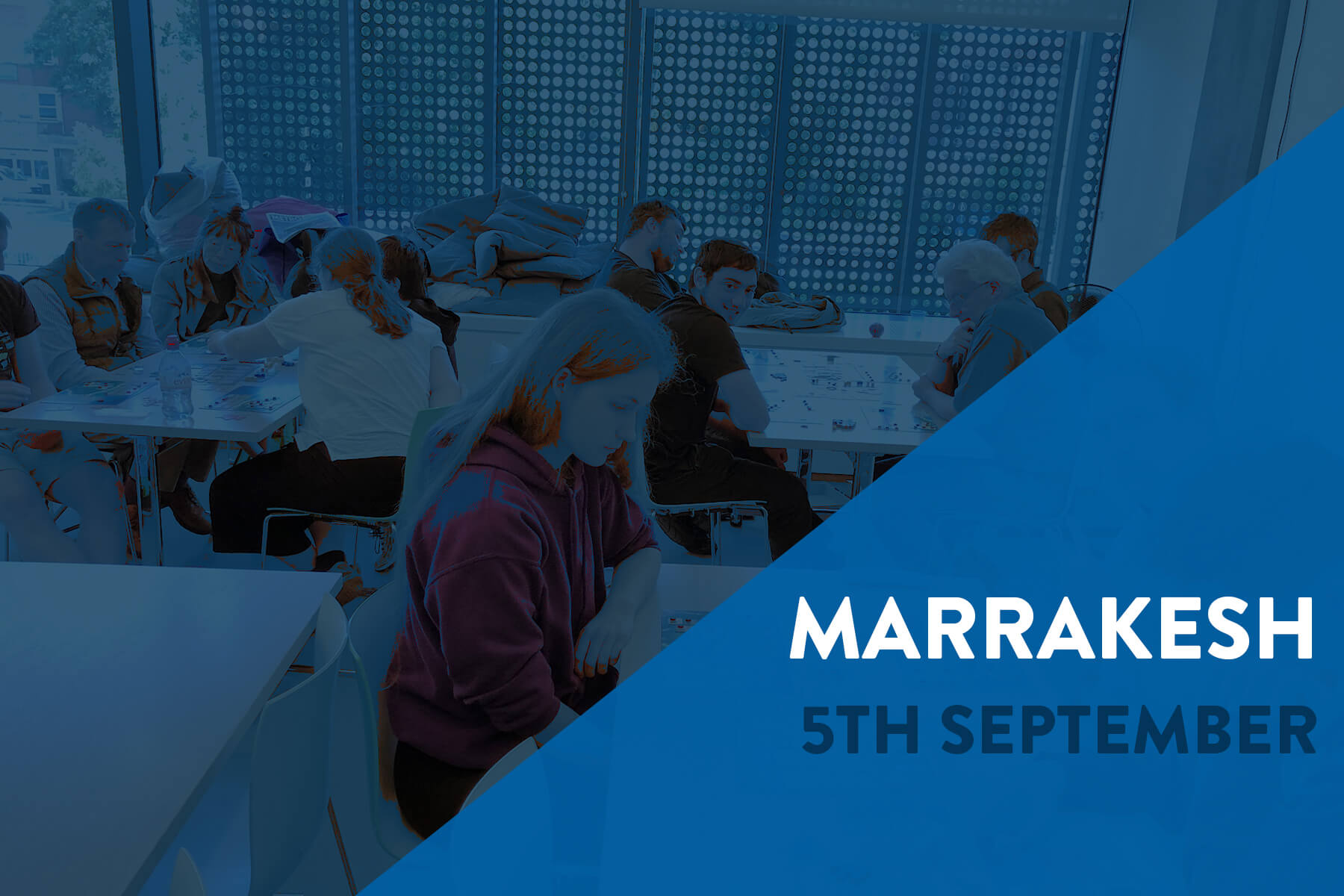 Marrakech
In Marrakech each player takes the role of a rug salesperson who tries to outwit the competition. Each player starts with 10 coins and an equal number of carpets.
On your turn, you may rotate Assam 90 degrees. Then roll the die and move him forward as many spaces as showing (d6: 1, 2, 2, 3, 3, 4). If Assam reaches the edge of the board, follow the curve and continue moving in the next row. If Assam lands on another player's carpet, you must pay that player 1 coin per square showing that is contiguous with the landed-on square. Then, you place one of your carpets orthogonally adjacent to Assam (but may not directly overlay another carpet).
The game ends when all players have played all carpets. Each gets 1 coin per visible square. The player with most coins wins!
Tournament Format
Players Per Table – 4
Rounds – 8
Platform – BoardGameArena
Clock Settings – 7:30 mins per player
This tournament will be played using the BoardGameArena (BGA) tournament system. Signed up players will receive an email one day before the tournament inviting them to follow a link to register to the tournament on BGA. You will need to do this in order to secure your place in the draw and this cannot be done sooner than 1 day before the tournament (this helps to avoid players being in the draw who do not show up for the tournament). Players who do not have 100 ELO points in the game on BGA will not be able to join the tournament without the email invitation so please make sure you have registered here on the MSO website 48 hours before the tournament. We may not be able to get you into the tournament after the invitations have been issued.
When playing in the tournament on BGA please ensure that you join each of your matches promptly as any player who misses the start of a round will automatically be withdrawn from the tournament. When a new round is drawn a bar should appear at the top of the page on BGA inviting you to join your match (you may need to refresh to see it). Follow this to join your table and play your game. We are unable to add players back into the tournament who miss a round or accomodate late entries for this tournament.
Tournament Link on BGA – https://boardgamearena.com/tournament?id=93281
Please note that this tournament carries the Dilution Factor of 95% for Pentamind scoring