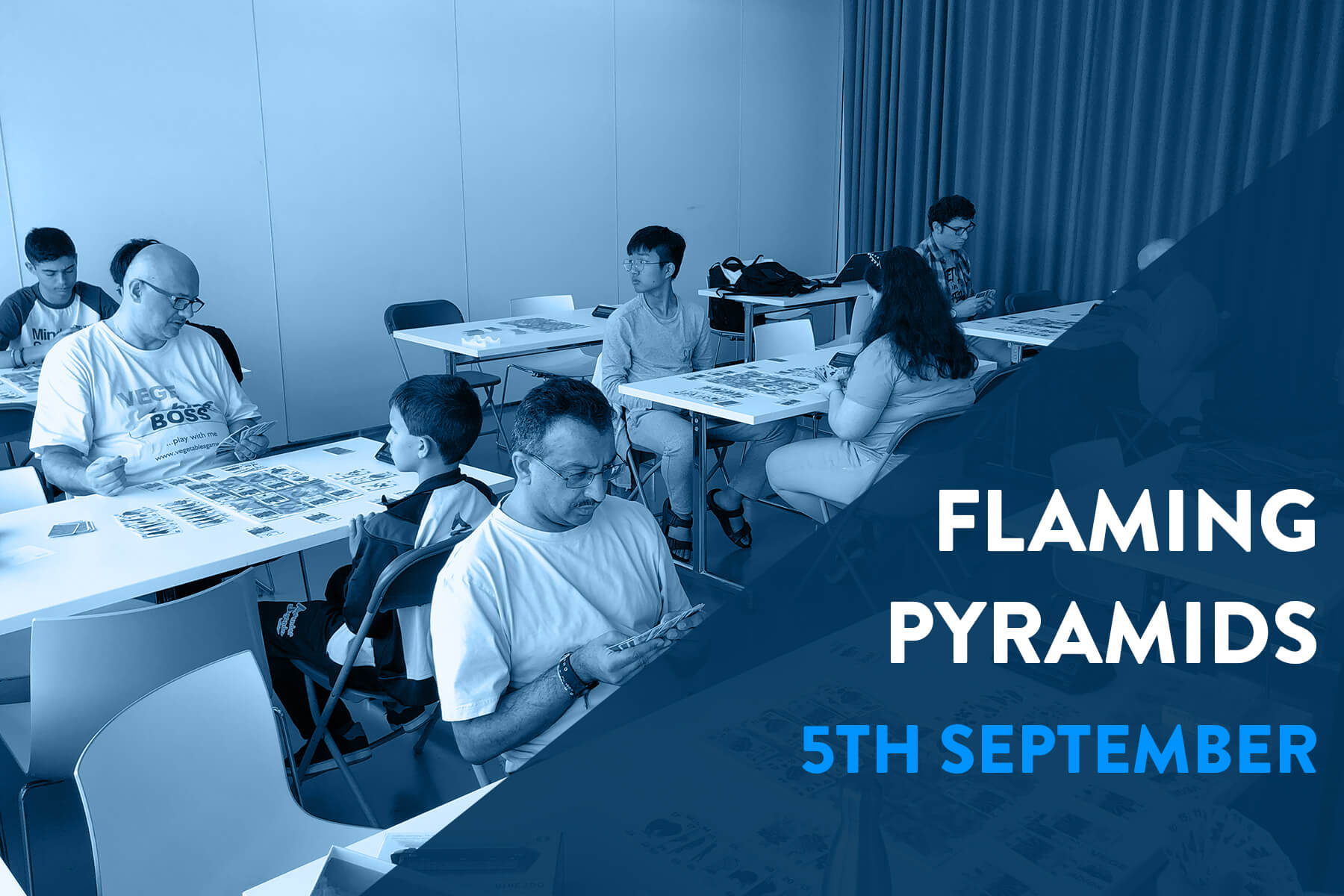 Flaming Pyramids
What's happening here? It looks like your neighbors have gathered together to create a pyramid out of straw, wood, and stone. Cool! But wait a minute, why do some people seem to be causing small collapses on purpose? And why does little Susie have a blowtorch?
In Flaming Pyramids, players are building one pyramid together using square tiles, but each player is trying to be the first to get rid of their own tiles.
There are 40 regular tiles with a unique combination of color, number, and material. Except toward the end of the game, players have a hand of five tiles from which to choose, but they are constrained by the building regulations and the luck of the draw. There are also four tiles that can cause fires and one extra-heavy "wild" tile: these can be harder to place without causing extensive damage the later they emerge. If your placed tile causes mayhem (a collapse, fire, or explosion), the damaged tiles go back in your supply.
Tournament Format
Players Per Table – 4
Rounds – 7
Platform – BoardGameArena
Clock Settings – 7:30 mins per player
This tournament will be played using the BoardGameArena (BGA) tournament system. Signed up players will receive an email one day before the tournament inviting them to follow a link to register to the tournament on BGA. You will need to do this in order to secure your place in the draw and this cannot be done sooner than 1 day before the tournament (this helps to avoid players being in the draw who do not show up for the tournament). Players who do not have 100 ELO points in the game on BGA will not be able to join the tournament without the email invitation so please make sure you have registered here on the MSO website 48 hours before the tournament. We may not be able to get you into the tournament after the invitations have been issued.
When playing in the tournament on BGA please ensure that you join each of your matches promptly as any player who misses the start of a round will automatically be withdrawn from the tournament. When a new round is drawn a bar should appear at the top of the page on BGA inviting you to join your match (you may need to refresh to see it). Follow this to join your table and play your game. We are unable to add players back into the tournament who miss a round or accomodate late entries for this tournament.
Tournament Link on BGA – https://boardgamearena.com/tournament?id=93282
Please note that this tournament carries the Dilution Factor of 95% for Pentamind scoring