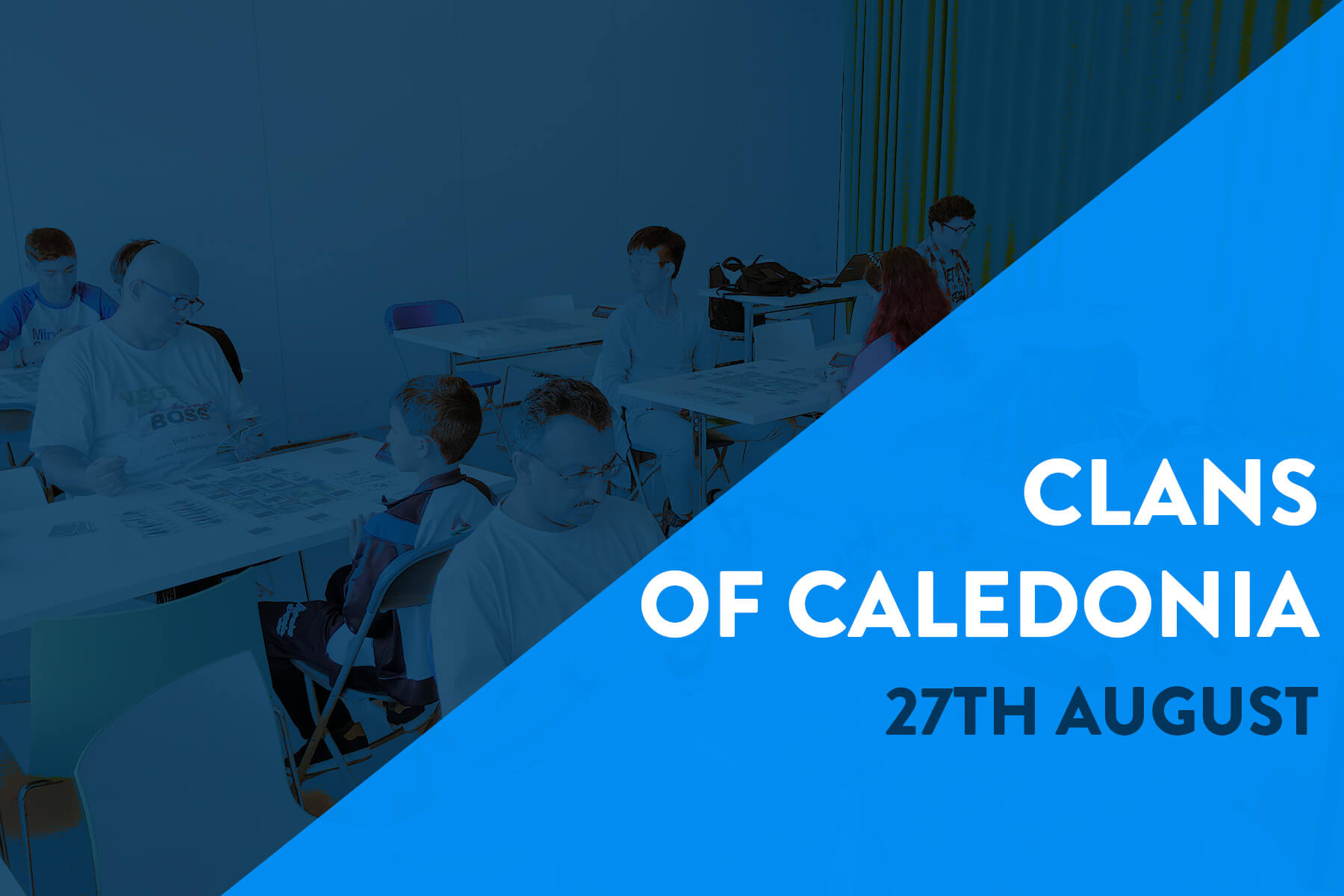 Clans of Caledonia
Clans of Caledonia is a mid-to-heavy economic game set in 19th-century Scotland. At this time, Scotland made the transition from an agricultural to an industrialized country that heavily relied on trade and export. In the following years, food production increased significantly to feed the population growth. Linen was increasingly substituted by the cheaper cotton and raising sheep was given high importance. More and more distilleries were founded and whisky became the premium alcoholic beverage in Europe.
Players represent historic clans with unique abilities and compete to produce, trade and export agricultural goods and of course whisky!
The game ends after five rounds. Each round consists of the three phases: 1. Players' turns, 2. Production phase, 3. Round scoring
1. Players take turns and do one of eight possible actions, from building, to upgrading, trading and exporting. When players run out of money, they pass and collect a passing bonus.
2. In the production phase, each player collects basic resources, refined goods and cash from their production units built on the game map. Each production unit built makes income visible on the player mat. Refined goods require the respective basic resource.
3. Players receive VPs depending on the scoring tile of the current round.
The game comes with eight different clans, a modular board with 16 configurations, eight port bonuses and eight round scoring tiles.
Tournament Format
Players Per Table – 3
Rounds – 3
Platform – BoardGameArena
Clock Settings – 30 mins per player
This tournament will be played using the BoardGameArena (BGA) tournament system. Signed up players will receive an email one day before the tournament inviting them to follow a link to register to the tournament on BGA. You will need to do this in order to secure your place in the draw and this cannot be done sooner than 1 day before the tournament (this helps to avoid players being in the draw who do not show up for the tournament). Players who do not have 100 ELO points in the game on BGA will not be able to join the tournament without the email invitation so please make sure you have registered here on the MSO website 48 hours before the tournament. We may not be able to get you into the tournament after the invitations have been issued.
When playing in the tournament on BGA please ensure that you join each of your matches promptly as any player who misses the start of a round will automatically be withdrawn from the tournament. When a new round is drawn a bar should appear at the top of the page on BGA inviting you to join your match (you may need to refresh to see it). Follow this to join your table and play your game. We are unable to add players back into the tournament who miss a round or accomodate late entries for this tournament.
Tournament Link on BGA – https://boardgamearena.com/tournament?id=93292