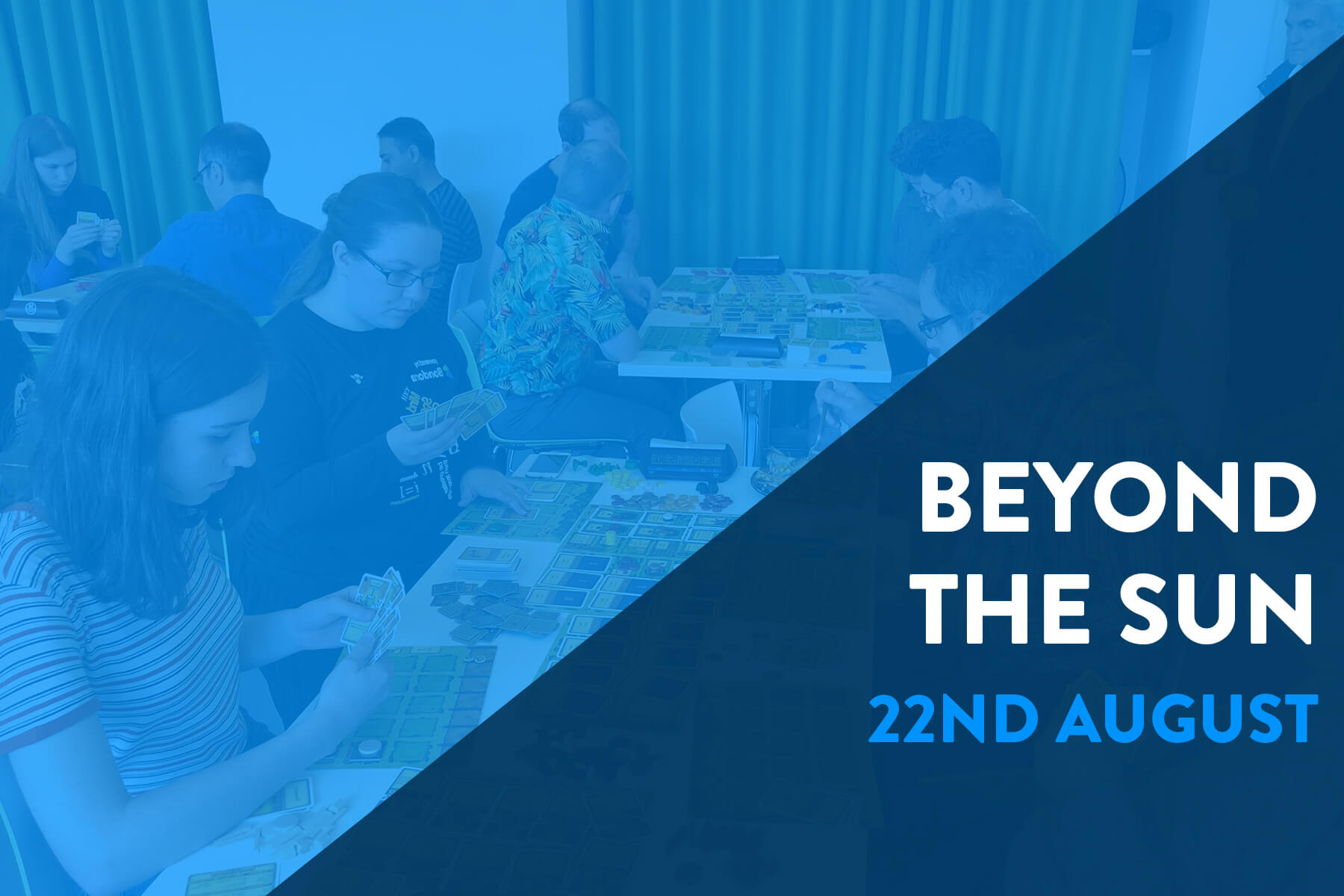 Beyond The Sun
Beyond the Sun is a space civilization game in which players collectively decide the technological progress of humankind at the dawn of the Spacefaring Era, while competing against each other to be the leading faction in economic development, science, and galactic influence.
The game is played over a variable number of rounds until a number of game-end achievements are collectively claimed by the players. The winner is the faction with the most victory points, which are obtained by researching technologies, improving their economy, controlling and colonizing systems, and completing various achievements and events throughout the game.
On a turn, a player moves their action pawn to an empty action space, then takes that action. They then conduct their production phase, either producing ore, growing their population, or trading one of those resources for another. Finally, they can claim up to one achievement, if possible.
As players take actions, they research new technologies that come in four levels. Each technology is one of four types (scientific, economic, military, commercial), and higher-level technologies must match one of the types of tech that lead into it. Thus, players create their own technology tree in each game, using these actions to increase their military strength, to jump to different habitable exoplanetary systems, to colonize those systems, to boost their resource production, to develop android tech that allows growth without population, and more.
Tournament Format
Players Per Table – 3
Rounds – 4
Platform – BoardGameArena
Clock Settings – 22:30 mins per player
This tournament will be played using the BoardGameArena (BGA) tournament system. Signed up players will receive an email one day before the tournament inviting them to follow a link to register to the tournament on BGA. You will need to do this in order to secure your place in the draw and this cannot be done sooner than 1 day before the tournament (this helps to avoid players being in the draw who do not show up for the tournament). Players who do not have 100 ELO points in the game on BGA will not be able to join the tournament without the email invitation so please make sure you have registered here on the MSO website 48 hours before the tournament. We may not be able to get you into the tournament after the invitations have been issued.
When playing in the tournament on BGA please ensure that you join each of your matches promptly as any player who misses the start of a round will automatically be withdrawn from the tournament. When a new round is drawn a bar should appear at the top of the page on BGA inviting you to join your match (you may need to refresh to see it). Follow this to join your table and play your game. We are unable to add players back into the tournament who miss a round or accomodate late entries for this tournament.
Tournament Link on BGA – https://boardgamearena.com/tournament?id=93271