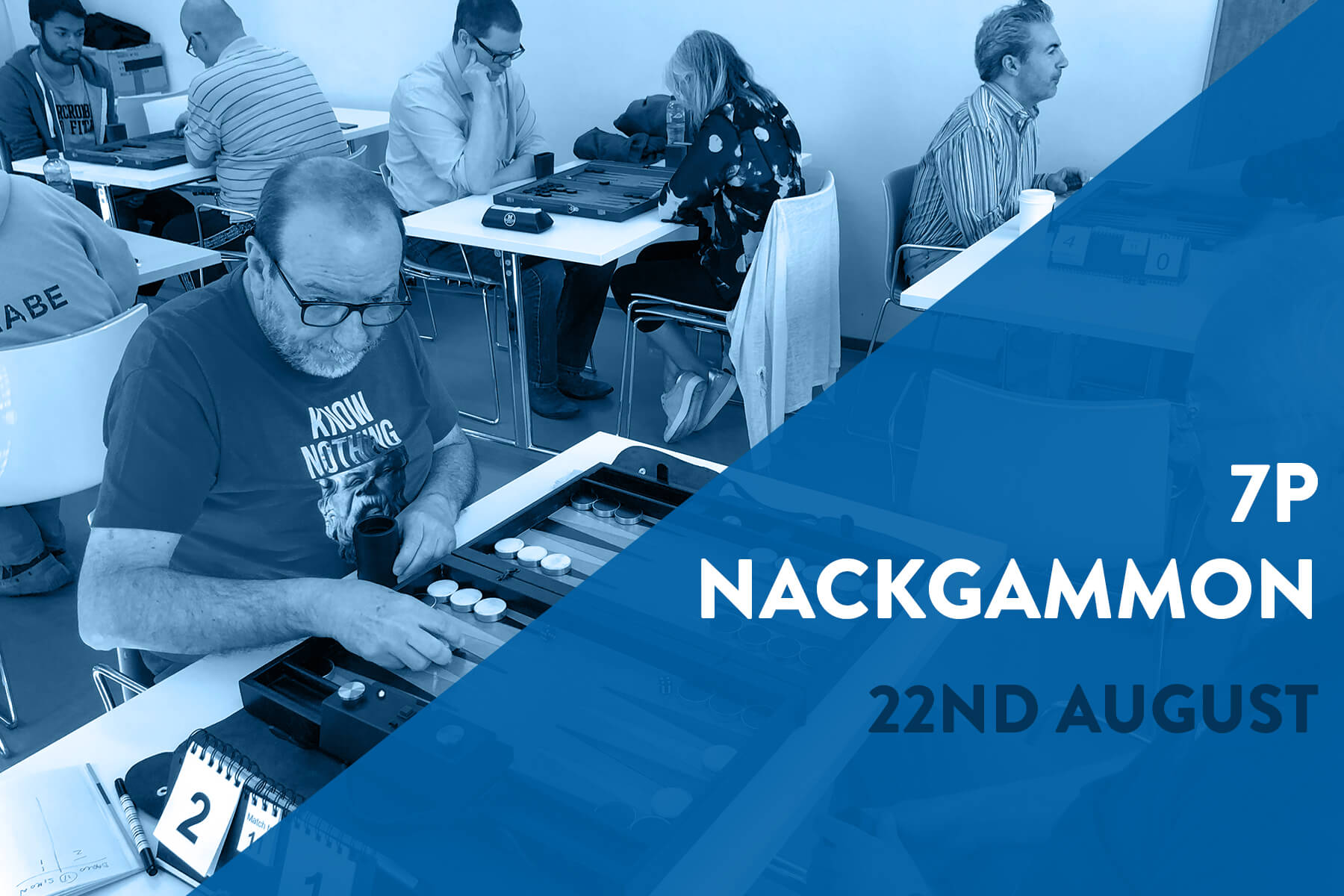 7pt Nackgammon
Please note that this is for Nackgammon–rather than Standard Backgammon! Single elimination (knockout tournament) where the winner of each round is the first to win 7 points (a doubling die is used). Bronstein timing – 7 mins per player + 8 secs per move. Crawford rule is used, however Jacoby Rule, Beavers and Automatic Doubling are not used. See rules for NACKGAMMON below. All games will be played on BG Studio Heroes 3 – HTTPS://HEROES3.BACKGAMMONSTUDIO.COM/ – note that the URL is slightly different to the normal Heroes web server.
Please provide your BG Studio Heroes username when registering. Please ensure that you have played at least 5 practice games on BG Studio Heroes to be familiar with the platform and eligible to participate.
You will need to register for the tournament in BG Studio Heroes as well. Tournaments will be added a few hours before the event starts. To find the event go to Heroes and select Tournaments, then in the section below select "Open". You will then find a list of open tournaments, one of which will say MSO and the date/time – e.g. "MSO 7pt Nack 22.August 3:30pm". You can then select that and register.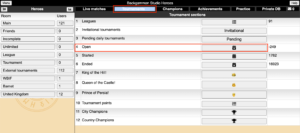 The player with the top 5 Pentamind scores from all of the Backgammon events will be crowned the 2021 MSO Backgammon Champion. £100 for 1st, £50 for 2nd, and £25 for 3rd.
Nackgammon Rules
Nackgammon is a variation on the traditional backgammon game that you know and love. It uses the same backgammon board and accessories, its aims and rules are the same, the only difference between it and traditional backgammon is the set up of the backgammon board. This variation was invented by backgammon legend Nack Ballard. It essentially follows traditional backgammon in everything other than the set up of the backgammon board. In regular backgammon, each player starts with a stack of 2 on their opponent's one-point, 5 on their opponent's twelve-point, three on their own eight-point, and 5 on their own six-point. In Nackgammon, however, each of the stacks of 5 become stacks of four and the spare two pieces are put on your opponent's two-point. This means that instead of starting with 2 checkers in your opponents 'home', in Nackgammon you have four! This slight variation in set up has a number of effects on the game. Because you have to get four pieces out from your opponent's 'home' a Nackgammon game is often considerably longer than a traditional backgammon game. The fact that this game was invented by a world champion is no coincidence. This backgammon variation takes more skill than traditional backgammon; it involves more strategizing and a heightened ability for 'back-gamming'. This game is less attack based, and more defense based. The winning and losing of this game is in positioning, there isn't the type of 'blitzing' that appears in traditional backgammon. All of the 2021 MSO Backgammon tournaments are being run by the World Backgammon Federation. The player with the top 5 Pentamind scores from all of the Backgammon events will be crowned the 2021 MSO Backgammon Champion.